Ironically, I was baking a pan of pastitsio, a Greek dish my daughter Mikayla introduced me to, when my personal essay titled "Baking Projects: Needing, Rising, and Letting Go" suddenly appeared in the acclaimed online journal The Rumpus. (See: therumpus.net/…/baking-lessons-needing-rising-and-letting-go/) The essay opens with a description of Mikayla's effort to bake her second batch of croissants from scratch. The rest of the essay is summed up in the kind words that appeared in my dear friend Camille DeAngelis' (@cometparty) Twitter feed: "Beautiful essay by @debkacolson about body image, shame, and living (and baking) her way towards self-love."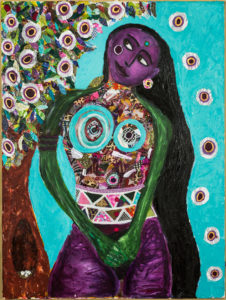 Tracy Strauss, my editor at The Rumpus, believed in the work and helped allay my fears about revealing my long history coping with Poland Syndrome. I am grateful to her and to my long-time writing partner Susi Lovell for her ongoing encouragement as I have grappled with the larger project of a memoir told through essays, vignettes, poetry and photographs. The manuscript for the memoir is complete and is currently out in the world seeking a home.
Last but not least, I would also like to mention another dear friend and remarkable artist, Rivka Simmons, who agreed to let me use her colorful collage-paintings of female figures for the essay. Her artwork, including the piece on this page, can be found here: rivkasimmonsart.com.